Overseas moves and overseas packaging by J. & G. Adrian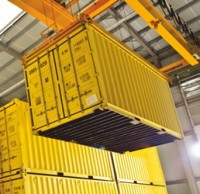 A strong and professional partner network is absolutely essential to carrying out an overseas move smoothly. From our central headquarters in Wiesbaden, we have contacts with partners at all sea ports and destinations throughout the world. A move coordinator will manage and support your overseas move from start to finish, being in contact with the responsible agents, customs authorities, freight forwarders and shipping companies. Online-based track & trace systems are available to our employees and enable them to provide reliable information about the current status of the commissioned move at all times. If you wish, you will, of course, be assisted in English.
Our quotation for your overseas move includes
Free on-site determination of the move volume and the appropriate transportation/ packaging method
Assistance with the completion of necessary formalities
Transportation-secure overseas packaging (if required, production of special packaging)
Expert loading of the removal goods
Interim storage in our self-service warehouse or overseas warehouse
Specific overseas packaging ensures damage-free transportation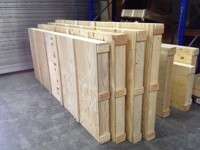 If the move volume does not exceed the 10 cubic metre mark, we use so-called lift van wooden crates. In the case of larger move volumes, we use steel containers, which can be shipped cost-efficiently from house to house by sea. Air freight can also be an interesting alternative for smaller, time-critical consignments up to 2 cubic metres. Overseas consignments are always professionally packaged by us.
Should you not wish to take a part of your furniture with you, it can be placed in storage for the period of your absence.
Overseas moves to the United States
In the case of moves to the USA, we can offer cost-efficient shipments as additional cargo in overseas containers. Your removal goods are not shipped individually in this case, but in a container together with other items. The principle of container sharing is particularly interesting from a financial point of view. Joint shipping in a shared container means that all freight costs incurred are divided proportionally among the individual senders.
What is special about overseas packaging?
Special climatic and logistical conditions mean that overseas packaging is a task for moving professionals. In the case of a move within Germany, the forwarding agent has complete control over the removal goods. In the case of shipments abroad, especially overseas shipment, this is unfortunately not possible. In the case of international moves, different forwarding agents pack and unpack the removal goods in each case. The cargo is often exposed to extreme climatic and physical conditions in these cases. One of the removal service provider's main tasks is therefore to bale the overseas packaging expertly so as to enable the long journey to proceed without loss or damage.
If furniture is not assigned air-permeable packaging, condensation will form in the case of longer shipments, resulting in damage to the item of furniture. Specific overseas packaging from J. & G. Adrian withstands the weather on container ships. Improper packaging may result in severe damage.  J. & G. Adrian employs specially trained employees, who know what really matters when it comes to overseas shipment and associated overseas packaging.
Security through additional insurance
Via the DMS general policy, J. & G. Adrian offers you appropriate shipment and storage insurance cover for the complete transport chain from house to house.