Removal service within Wiesbaden? Or further afield?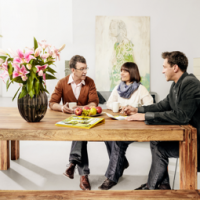 Your Wiesbaden removal company Adrian provides you with professional assistance from the outset when you are relocating. This enables many questions to be answered and problems avoided well in advance. Whether you are relocating within Wiesbaden, to Frankfurt or somewhere else, what you need is a partner whom you can trust and who has solutions for every removal situation.
Inhabitants of Wiesbaden and international customers have been placing their trust in our removal company for more than 150 years. And with good reason.
Free in-home survey by experienced moving consultants
Every household is unique and hence every removal, too. During a personal visit, our trained moving consultants will record the volume of all move-related fitments according to your specifications. This will give rise to a comprehensive moving checklist, which forms the basis of our transparent quotation. This prevents your removal volume from being set too high or too low. As a result, you can rest assured that removal costs will be correctly charged and you will not pay too much. If you would like to have an advance rough estimate of how much your removal might cost, we recommend our removal cost calculator.
Everything is possible, from "assistance with removal" to the full service
You can pack your removal boxes yourself or have them packed by us, just as you wish. In the case of a full-service removal, everything in your new residence will be exactly as it was in the location from which you have moved out. Simply choose from our numerous additional services and compile your dream move.
Our range of services for your move
Personal and free in-home survey including detailed recording of removal items
Packing material can be supplied to you in good time prior to the removal date
Experienced removal assistants pack quickly, but carefully, including sensitive goods
We will supply electricity to refrigerators during the removal on request to prevent any interruption of the refrigeration process
In the case of old dwellings or narrow staircases, we use an external lift
Your fitted kitchen will be removed and assembled professionally by the company's own cabinet maker
We disassemble/assemble furniture from all established manufacturers
Electrical and sanitary equipment connected by trained specialists
We will be pleased to assemble/disassemble lamps, curtain rods, coat racks, pictures etc. (including dowel work)
We will pack PCs, televisions or your hi-fi system professionally and carry out the installation/re-installation, including a function check, at your move-in location
We will clean or renovate your old residence on request
We will store any furniture that you temporarily do not require on our premises (self-storage)
Disposal of fitments that you do not wish to take with you to your new home
Good air - smoke-free removal with J. & G. Adrian
We can, of course, also carry out your move in a smoke-free manner. This ensures that only non-smoking employees and smoke-free packing material are used. You will thus have clean air in your new four walls from the very first day.