Your residential move - when it comes to moving home, good advice is half the battle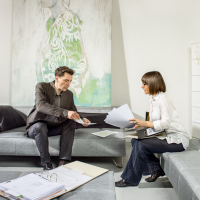 Every move is unique and nothing is irrelevant when you want or need to move residence. Our services with regard to residential moves are as individual as our customers, ranging from "assistance with removal" to the full service. A personal moving consultant will support you at all times and, together with you, find the best solution for your relocation. You can sit back and relax, while our employees professionally carry out your move within Germany, Europe or overseas.
Why should you let Adrian carry out your move for you?
Because a reputable removal company like J. & G. Adrian from Wiesbaden marks itself out, first and foremost, by its membership of the Bundesverband für Möbelspedition und Logistik
(AMÖ) e.V. Easily recognizable by the logo with the kangaroo.This gives you the assurance that the removal company has undertaken to comply

with binding quality standards and is assessed on a regular basis.
As a member of the Friedrich-Höhne-Adrian corporate group, we meet far more stipulations and quality standards than required in statutory and regulatory terms. Our quality management system is a guarantee of transparency and a high standard at all times.
Transparent removal quotations with no hidden costs!
Unreliable providers advertise using bait advertising, which, through hidden costs, subsequently reaches levels that are many times the original price quoted. In the worst case, loss events are not adequately insured. You should not take such risks. A free and non-binding survey with a view to preparing a binding removal quotation is a matter of course for a reputable and highly qualified company like J. & G. Adrian.