Trained IT employees are also on board from the outset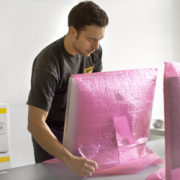 In the context of business moves, IT moves have become standard nowadays. IT removal services of any type and extent and the use of special transportation means are now a matter of course for every reputable removal company. For us at Adrian at least.
J. & G. Adrian from Wiesbaden attaches special value to every IT move being carried out by specially trained employees. They package IT equipment with suitable (e.g.  antistatic) packing material and ensure that all IT components, printers and servers are labelled carefully and completely. This is the only way to guarantee a smooth procedure and ensure that everything is in the right place and working correctly at the target location.
To ensure that your IT move is successful...
our IT employees disconnect your devices,
trained specialists pack your IT equipment into special IT tubs or trolleys,
our removal staff use special packing material for IT accessories, such as antistatic air-cushioned wrappers,
we sort items like keyboard, mouse, connecting cables and other small parts into designated IT small parts bags,
we or you label all PC components with removal stickers,
we transport your IT equipment in air-sprung lorries
we clean individual or all components of the IT workstation, on request, after the move,
we connect all components of the IT workstations in the new office,
we carry out a function check, on request.
We ensure that everything is in its right place again following the move and you can resume your work as usual, just as if you had never left your "old" workplace.
Your IT move as part of a business move or separate
You can also book an IT move separately with us. Simply contact us - we will also find the right removal solution for your IT and the rest.