A company relocation with Adrian proceeds according to schedule
Benefit from our expertise in office moves. No matter what business you are operating, we have been carrying out all kinds of business moves since time immemorial, whether that be for the small freelancer's office or an authority's complete site relocation. Trained and experienced project managers plan and support your business move and quickly make you productive again.
This is how a business move proceeds: you specify your requirements for your site relocation and we ensure, on the due date, that every workstation is in the desired position and everything works in an orderly manner again, from the machine through to IT.
What we do for you:
Having a business move carried out by a professional removal company saves time, money and resources. We move virtually anything that can be moved. Send us your enquiry and agree a survey appointment with your personal move manager today. On request, we will be pleased to carry out your business move in a climate-neutral manner.
Do you need to refurnish your office? Used office furniture is the clever alternative.
If you would like to purchase office furniture or wonder what to do with your used office furniture, our sister company KS Büromöbel will help you.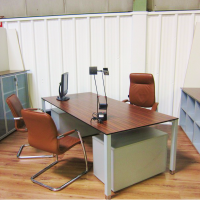 This division of our company group attends to the purchase, sale and hire of high-quality office furniture.
Visit our showroom in Griesheim (near Darmstadt), where you will find a wide variety of office furniture such as desks, office chairs, mobile filing cabinets, office cupboards, sideboards etc. of established brands (e.g. USM Haller, Schärf-Samas, Kinnarps, Ceka etc.). This will enable you to save up to 50% compared with a new purchase. Our used furniture consultants will be pleased to advise you and provide information on which office furniture is available and in what quantities.  You can purchase some of the furniture conveniently online in UFL's eBay shop. However, our stock changes virtually every day, which is why we recommend you to visit our showroom in Griesheim in person. Our customer advisers are at your disposal from 7am to 6pm, Monday to Friday!