Certified quality criteria with regard to removals
If you engage us to carry out your move, you can be sure of receiving a removal service with high quality standards.
Recognized AMÖ specialist
The logo with the kangaroo is a guarantee that you are dealing with a qualified removal company. AMÖ is the Federal Association of German Moving Companies. All moving companies organized in AMÖ undertake to comply with numerous quality criteria, such as
working according to the principles of a prudent businessman
preparing transparent quotations
providing information about applicable terms and conditions of insurance, transport and liability
deploying trained employees
using environmentally friendly packaging materials
consulting the AMÖ arbitration board in the event of differences of opinion with the customer
TÜV certification to DIN ISO 9001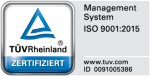 Every DMS company is TÜV-certified at the same time. For the certificate to be issued, J. & G. Adrian, like all DMS companies, is regularly audited in comprehensive audits to ensure that it is complying with the strict rules. These rules are codified in our QM system.
Quality management system (QM)
Our customers are the focal point of our activities. All our endeavours are aimed at not only acquiring, but also satisfying interested parties and customers. This has absolute priority for us!
In addition, another important aspect of quality management is the design and preservation of a safe working environment for our employees (occupational safety).
Our internal quality management manual defines all the quality objectives and the quality policy of our moving company, describes processes and records information that is necessary for the planning, implementation and management of the processes. The QM gives us an opportunity to improve constantly.