This is how easy it is to become a climate protector

Did you know that a climate-neutral relocation costs an average of only 7 euros more for private households?
Make a valuable contribution to active environmental and climate protection. For every move, be that within Wiesbaden or further afield, is responsible for a certain quantity of CO2. We have pledged to act and operate in an environmentally conscious manner. The climate-neutral removal service, which we have been offering since 2012, also gives customers an opportunity to support our diverse commitment to climate protection. The additional cost is very manageable. With an average of an additional 7 euros, you can support a recognized climate protection project like Tree Invest in Costa Rica. A relatively small outlay with a huge impact. In plain language, this means that your climate-neutral relocation brings about real new plantations of trees, which help to limit the effects of climate change.
How does a climate-neutral relocation proceed?

Climate Partner, our climate protection partner, records all truly relevant sources of emission for J. & G. Adrian on an annual basis (CO2 footprint), with a view to obtaining a sound calculation basis for climate-neutral relocations. This calculation lists all the factors (vehicle fleet, operating fluids, employees' travel, packaging material etc.) that are responsible for CO2 output during the removal process and compares them with the impact of our compensation measures. Following your relocation, you will receive a personal certificate issued in your name indicating your commitment.
What are climate protection projects?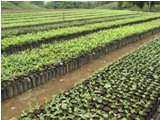 Climate protection projects are facilities for producing cleaner energy or storing CO2. They are financed by means of emission reduction certificates from emissions trading. The purchase of certificates in the context of emissions trading ensures that CO2 is reduced. These climate protection projects are funded through the purchase price that is charged for the certificates.